A Complete Guided Review Of The Online Payment Provider 'Skrill' for Online Casino
In simple words, Skrill is an online payment gateway that works like an e-wallet service to transfer funds internationally or domestically. It is said to be the nearest competitor of the other popular online payment gateway 'PayPal.' You can easily manage your funds with Skrill, as it renders safe deposits and withdrawals. The users can access and transfer their balance 24x7 globally through the Skrill app. The app is available on the Google Play Store and the Apple App Store for Android and iOS devices.
Skrill offers advanced online payment gateway features that are provided by other e-wallet platforms. Moreover, direct traffic is almost 49.66% on this platform, and the search traffic is 27.09%. The excellent benefit of Skrill is it provides innovative solutions and offers various other marketing facilities too. It has won various prestigious awards like EGP B2B Award, Deloitte Technology Fast 50 Award, and many more. The platform makes payment solutions easier for you by offering advanced payment products.
You can get the Skrill prepaid debit card that is issued by the MasterCard . With this card, you can make in-store purchases that are free of charge. But, you need to pay a fee of €10 yearly. This shows it is cheap to withdraw money through Skrill. There are more than 100 local payment methods like digital wallets, prepaid cards, payment gateway, PSP, shopping carts, and instant bank transfers to manage almost 40 currencies to handle the cross-border payments. Skrill supports bank transfers from more than 3000 banks globally. It also offers single touch 1-Tap payment for the users. You need not worry as Skrill payment products are PCI Compliant.
Background of Skrill
Skrill was founded in 2001, and it was firstly owned and operated by Skrill Limited. It was previously registered as 'Money Service Business' with the 'Her Majesty's Revenue and Customs.' Moreover, it was regulated by the Financial Conduct Authority and was licensed to be operated within the European Economic Area.
It is headquartered in London, UK. The company has more than 500 employees, with almost 40 million active users globally. It supports 40 different currencies, and transactions can be done in almost 200 countries. Skrill's present CEO is Lorenzo Pellegrino. Originally, the company started as 'Moneybookers,' but it has belonged to the Paysafe Group since 2015. Back in 2018, the company also allowed its customers to buy cryptocurrencies using their fiat currencies' balance.
Skrill's Prepaid card can be used in any of the four currencies like Euro, US Dollar, PLN, and GBP. The high-turnover customers can use a premium membership plan known as 'Skrill VIP.' It consists of multi-currency accounts, security token, and loyalty points too. Skrill not only allows people to make business-related payments, but one can also make deposits and withdrawals through Skrill in their online casino accounts. If you choose to send money from Skrill to their bank account, it's free, and receiving money is also free of charge. Skrill is not only one of the sophisticated platforms, but it charges lower fees too. The number of merchants on this platform is almost 120,000 worldwide, and it can be easily used with the Facebook and eBay platforms. Skrill's two main markets offer payment gateway services are forex brokers and the online gambling industry.
Pros and Cons of Using Skrill for Online Casinos
Skrill is one of the popular payment gateway services, focusing on low-cost money transfer that has become an all-time favorite among the virtual casino account holders. Many reputed online casino accounts offer Skrill as the payment option. The players can play conveniently and with utmost security using the Skrill account as their payment options. Below are a few more reasons to choose Skrill:
Security
FSA regulates and monitors the activities of the Skrill payment gateway service provider. This platform uses high-level encryption to protect the information provided to the online casino users. The 128-bit encryption and two-factor authentication provide maximum security for the users.
It helps state that your information is secured, and the details will not fall into the hackers' hands. The passwords of users are strictly confidential to prevent any misuse. The anti-fraud screening features add a security layer for transactions. However, the identification time is quite long, and the user's amount gets stuck in the account for long that upsets the people.
Speed
The Skrill account is easily accessible, and it can transfer the amount instantly through prepaid cards and other payment systems. But, bank transfer can take between 3 and 5 working days that can irk some players. You can transfer the cash anywhere across the globe.
As the cash transfers are instant, casino players can transfer the money and make withdrawals too. If you compare Skrill with other platforms, the fee charged is quite cheaper, but it can be seen as a disadvantage.
Casino Reload Bonuses
The casino players who opt for Skrill as their payment option are entitled to get the casino to reload bonus. However, the bonus amount will vary according to the deposit and the casino you will choose. This may upset a few casino players. Moreover, many Skrill-based online casinos offer a 100% welcome bonus to its players.
Convenience
Skrill is accepted in over 200 countries, and one can transact in almost 40 currencies. This makes the payment and deposits convenient for the players. You can use Skrill's mobile app for making deposits, so it is quite convenient to use Skrill anytime and anywhere across the globe.
Skrill provides 24x7 customer support service and FAQs, in case you cannot withdraw or deposit your money. But, you should be aware of one thing that the Skrill support system may not always respond quickly. Therefore, if your casino transaction is delayed, then you have to wait for a few days.
Reputation
Skrill is a fully licensed and authorized online payment gateway system. It comes under the UK Financial Authority for managing the finances. It holds high credibility, reliability, and trustworthiness among its users. It only lets the verified accounts make transfer and deposit of funds. Although Skrill has such a good number of customer-base, it could only transfer less than 1 billion for its customers. This can be because its identification process takes a long time compared to other e-wallets.
Cost
Suppose you are paying to a merchant directly from your Skrill wallet, sending money to an international bank account through Skrill money transfer, or receiving the money to your Skrill account. In that case, all these transactions are free. However, Skrill may not be free for other types of global or local payment transactions.
You have to pay a 1% commission on deposits, but the withdrawal amount is quite high like you need to pay €5.50 for bank transfer, 7.50% is charged on Visa card, and for Swift, it is €5.50. Another drawback is that the user needs to make a transaction through their Skrill account once in 12 months; neither €5 will be deducted from their account.
Customer Service
Skrill has a well-knit FAQ section where users can seek answers for many useful questions. But, if you cannot get your queries sorted out, it provides full-fledged customer support. You can contact them via the local toll number of the US and the UK.
But, you must save your customer reference number so that the agent can deal with you. You can even send a direct message to them or call them directly on their phone numbers for instant help. However, the drawback is Skrill does not offer a 'live chat' facility.
How to Use Skrill at the Online Casinos
First, it is a matter of choosing which casino the player wants to play at that accepts Skrill. Then, becoming a member of that casino site by registering. Next, it means going to the casino's deposit section and choosing the Skrill option.
The casino will automatically produce the form which needs to be filled in for the Skrill transfer. Once the information is provided, the casino will go through their processing with Skrill to submit the information and receive confirmation of payment acceptance. After approval, the money should appear in the players account for use.
How to Open a Skrill Account?
To open an account with Skrill is quite easy, as you can receive your money for free. Moreover, you can spend the amount with various online merchants and withdraw to your bank account too. You can open your account in these easy steps: · Go to Skrill Homepage and then to Accounts > sign up page · Enter your name, country, currency, email, and password. · After this, agree on the registration terms and register with Skrill · Now, fill out your address details and other personal details · Enter your contact details, and complete the captcha challenge · Select the payment method, and provide relative details accordingly · If you agree to Skrill terms and conditions, then tick the box · Now, select 'Open Account.' Here, you will notice that there was no ID verification done until now, as Skrill lets its customers hold smaller amounts without verification of their ID. Moreover, you need a personal bank account to send or receive money through Skrill Money Transfer. This means you need to possess a bank account too.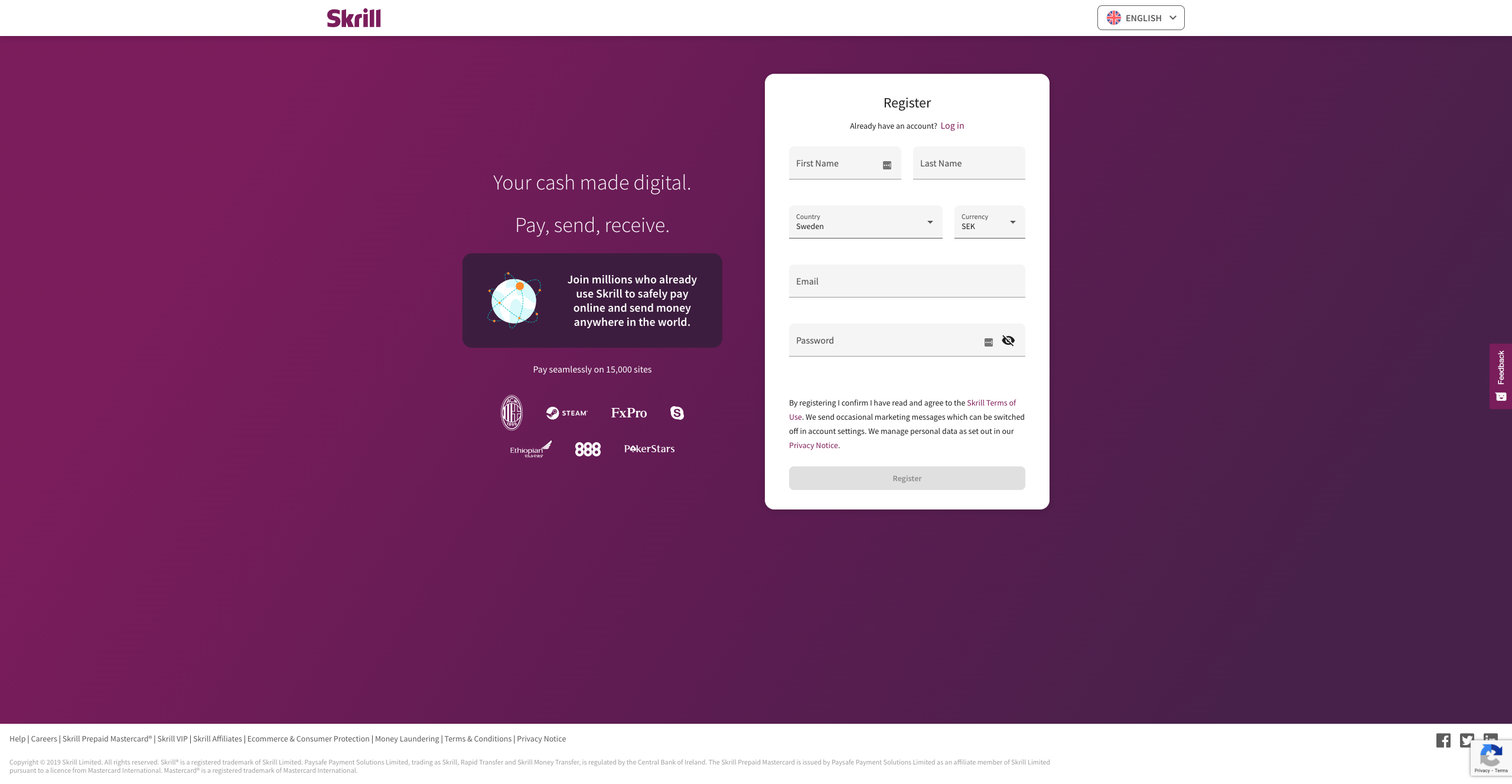 Skrill may have set different age limits for certain products to account for this online payment system provider. Overall, you need to be 18 years and above to open the account, and the user can open one account only. You need to take approval from Skrill under a few circumstances to open additional accounts. There are many limitations to hold a Skrill account like: · The maximum transfer you can make is $1,000 only per transaction · Only one account per person is allowed, and multiple accounts are for Skrill VIP customer · Only until a limited amount you can send or receive money without verification · Only named holders are allowed to add payment methods to their Skrill account · You can access the account in stated currencies and from countries only · Suspicious activities like failed login attempts can lead to suspension of the user account
How to Fund a Skrill Account?
If you want to add funds to your Skrill account, it can be done with your existing Skrill account. To deposit the funds into your Skrill account, you must follow these significant steps: · Log in to your Skrill account · Now, opt for the 'cashier' tab and select 'deposit' · Here, the Skrill 1-Tap logo will appear. You can select this deposit option by simply clicking on the icon · If there is any bonus code (if applicable) or deposit amount, click on 'Deposit'. However, one thing to note here is that the fund you want to deposit must be less than or equal to your Skrill account amount. · You will now be directed to the Skrill homepage, where you need to fill in your email address and password. · Complete your transaction through the Skrill's website · After this step, you will see an 'order approved' message. Now, click on 'OK' to get transferred back to the cashier, where you will find a successful deposit message. · Here, you can choose the payment method after completion of this deposit. This can be done with the help of Skrill 1-Tap. You need to click on 'Pay'. These deposit steps done with the help of Skrill 1-Tap will help you to make subsequent deposits, and you do not have to log in to your Skrill account repeatedly. Skrill 1-Tap is a secure method, as it monitors the safety of your transaction through SMS transactions and verification.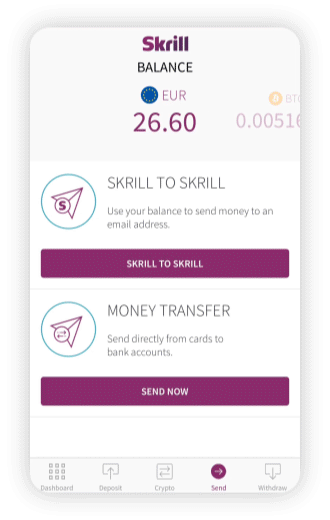 Skrill Customer Support Options
Skrill, formerly known as Moneybookers, is a UK-based online money transfer business. The payment gateway provider offers versatile customer support options for its customers. But, a few are instant, and a few can take up to 2-3 business days. You can choose to email, call them on their customer service number, or even get a ticket issued through an email. Let's now see all these options below one by one, and also acknowledge why customers usually call Skrill customer care.
Email/Ticket
These emails will help you to generate tickets and get connected with Skrill's customer care representative. You can email to Skrill through [email protected] if your issue is not that urgent. If you are a VIP member at Skrill, you can email the team through [email protected] or if you want to be a VIP member, then email the Skrill team [email protected]. After generating your ticket, you can expect an answer within 2-3 business days from their customer support team via email. Alternatively, you can also check out for your queries in the FAQ section.
Phone
You can contact the Skrill team through their customer service phone number 800-238-9984. The waiting time is almost 3 minutes for the customer service number. Moreover, its international number that you can call for a shorter queue time is +44 203 308 2520. You can use your customer ID to connect faster. Standard call charges will apply depending on your provider. The VIP account holders can call the Skrill customer care team on this number +44 (0) 203 608 1405.
The reasons due to which customers called Skrill were:
'I cannot log in to my Skrill account'
'How to become a Skrill VIP member'
'Why can't I deposit more than this XXX amount in my merchant account'
'Please help; I forgot my login id and password. I cannot log in'.
'I closed my Skrill account, but now I want to reactivate it'
'I would like to change my name on my Skrill account'.
How to Deposit and Withdraw from Skrill Account?
You can deposit the money into your Skrill account with the 'Skrill 1-Tap' deposit option. The users can deposit the money through the wire transfer, bank card, or other e-wallets connected to your bank account only.
To proceed for deposits, you need to provide your date of birth, address, and then proceed for payment. If you want to withdraw your money from Skrill, you can send it directly to your bank account, choosing the 'Withdraw' option. For e-wallets, it's instant, and for a bank card, it takes 3 business days.
You can make a direct deposit to the Skrill via 'direct transfer to your bank' that is the most used method. You can use prepaid cards, Neteller (as it has purchased Moneybookers), Trustly, Klarna, Paysafecard, or Bitcoin to make direct deposits. Skrill's daily limit is $1,000 on ACH, and for a credit card, it is $2,500 per transaction. If the payment is accepted by Skrill, then it takes 20 minutes to credit the amount. But, if it's rejected, Skrill will provide a full refund to your bank account after full verification.
The Skrill processing time is instant for e-wallets and prepaid Skrill MasterCard, bank transfer can take between 1-5 business days, MasterCard can take up to 3 business days, and Visa Card will take 7 business days, and Mobile wallet and payment is instant. Even you can make mobile payments through the Skrill app, available for both Android and iOS mobile devices. You can choose to transact with Skrill available currencies at these casinos in 2020 as Karamba, Dunder, Party Casino, Casino.com, and Betway.
Skrill Costs for Money Transfer
The instant transfer fee of Skrill to the e-wallets is free through Skrill's money transfer. The Skrill's transfer limit is $1,000 through Automatic Clearing House, and for Credit Cards, it is $2,500 per transaction. This is the daily limit for carrying out Skrill's transactions.
It is worth noting that Skrill has its own strict compliance, so if your country is banned under Skrill, you cannot make deposits and withdrawals through this platform. But, Skrill allows transactions in over 200 countries to send and receive money. Let us see the countries that Skrill accepts to send money or receive money.
Countries To Which You Can Send Skrill Money
The countries included here are Australia, Austria, Cyprus, Bangladesh, Nepal, Greece, Germany, Latvia, Thailand, Vietnam, Poland, Netherlands, Belgium, United Kingdom, Ireland, Indonesia, San Marino, Slovenia, Sri Lanka, Spain, Malaysia, Italy, Kenya, Finland, Estonia, Luxembourg, Lithuania, Monaco, Slovakia, and the Philippines.
Countries From Which You Can Receive Skrill Money
Andorra, UAE, Austria, Australia, Norway, New Zealand, Belgium, Bahrain, Bulgaria, Canada, Colombia, Switzerland, Czech Republic, Finland, France, UK, Ireland, Iceland, Italy, Oman, Poland, Norway, Malta, Netherlands, San Marino, Singapore, Serbia, Slovenia, Slovakia, Thailand, Sweden, Taiwan, Turkey, South Africa, and much more.
Skrill, previously Moneybookers, is an online payment service provider that caters to over 200 countries and 40 currencies. The customers can seamlessly connect with Skrill's customer support system via these options to address their grievances.
Physical Address
You can write to Skrill for Redressal of your grievances on their 'Registered Office' address, that is – Skrill Limited, 25 Canada Square, Canary Wharf, London, E14 5LQ, UK.
Phone Numbers to Skrill customer service
Its international phone number is +44 203 308 2520. For International users, it will be charged as per their local call charges. The VIP account holder can contact Skrill through +44 (0) 203 608 1405. You can use your customer ID to reduce the queue time that can be 3 minutes almost. However, the UK residents can call on this number +44 203 308 2519 during the business hours.
The Skrill online money platform does not offer the Live Chat option until now, but we may sometimes see it in the future.
If you are new to using Skrill, you can go to the platform's FAQ section and put up your queries. These FAQs can be written in the 'Get Instant Answers' tab. You can ask FAQs relative to accounts, payment, security, withdrawals, etc.